The Genesis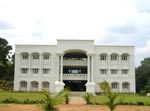 The College of Nursing is a new institution under the umbrella of Manohar Hill Charitable Trust.The trust is a symbol of benevolence and compassion for suffering fellow being and is a bold experiment of social service, which was, founded in 1964 by late Mr. P. Geevarghese a Kottayam Industrialist.
Based on personal conviction and Philosophy of its founder that "man is only a custodian of God's money, various institutions were established by trust for social service and to contribute to welfare and development of community in health, education and allied fields. The institutions under the Manohar Hill Charitable Trust include the following institution with proven track record since decades.
M.G.D.M. HOSPITAL (1964)
P. Geevarghese School of Nursing (1975)
Baselios English Medium School (1974)
School of Medical Laboratory Technology (1979)
The College of Nursing is the youngest institution under the trust, which is being established and planned to be developed as a prestigious institution under the trust. The College is named after the saintly bishop Theophilus, who was an inspiring force and promoter of M.G.D.M. HOSPITAL and other trust institutions.